It might be the oldest of our seaside resorts, but what panache! Officially established by a decree issued by Napoleon I, ordering the foundation of a town along the river, Wimereux really came into being during the Second Empire. It was the heyday of sea bathing and the extension of the Boulogne / Calais railway line… A century and a half later, Wimereux continues to seduce, nostalgic and poetic, family-friendly and vibrant…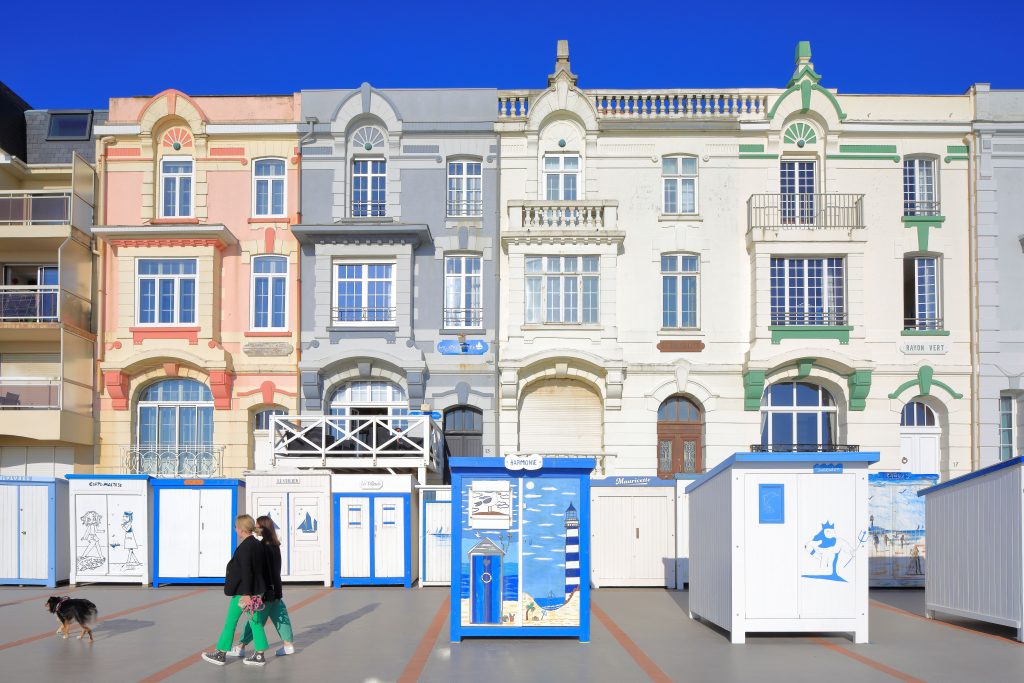 Highlighting the villas of Wimereux
From the end of the 19th Century, exuberant Anglo-Norman villas were built on the Wimereux seawall, but also in the adjoining streets. These are adorned with turrets, bow windows and balconies, and dressed in bright colours, colourful ceramic tiles and ornaments. They compete with each other in terms of audacity, celebrating in their own way a very Belle Époque style.
More than a century after their construction, most of these villas are still standing, forming a unique seaside heritage. Are those pretty old ladies really over a hundred years old? So what! Their owners pamper them and regularly give them a makeover, with generous strokes of paint. Whether they are wildly classy or downright crazy, these elegant ladies give Wimereux its slightly nostalgic ambiance.
The beach huts of Wimereux
A timeless charm is accentuated by the long garland of beach huts stretching along the sea wall, all dressed in white and blue, they each have their own personality and their own poetic qualities.
The huts of Wimereux are a huge success, to the point that, for the first time since the origins of the resort, the town is now offering them for hire. Made by a social integration association from Le Portel, La Mouette rieuse, Le Phoque marrant or Le Bernard l'hermite can be hired for a day or a week to celebrate an art de vivre that is so dear to Wimereux.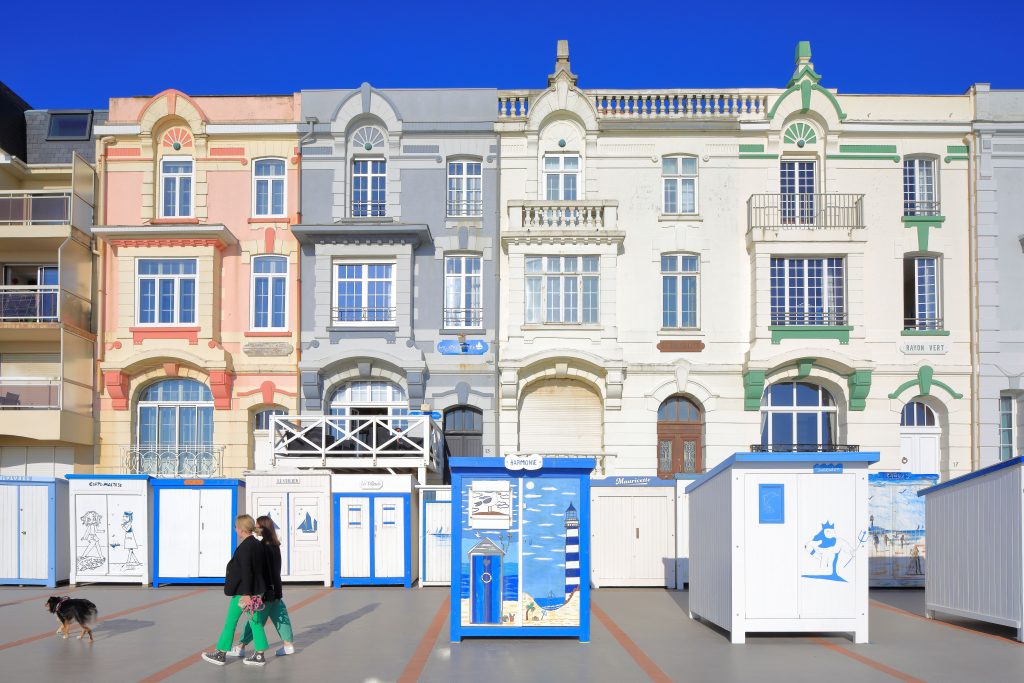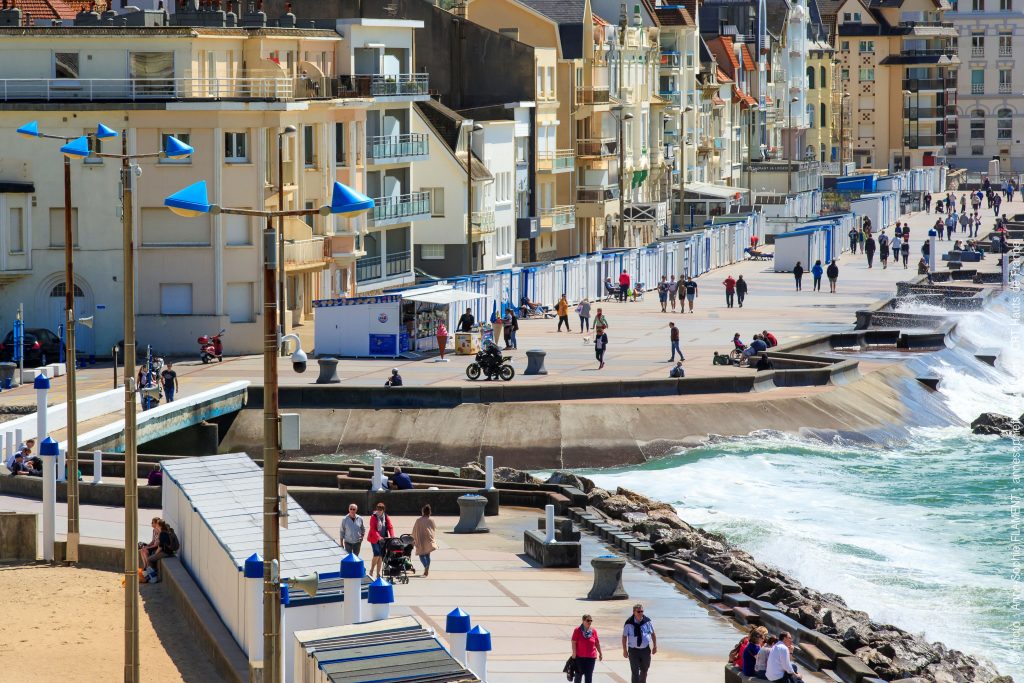 The seawall-promenade and Le Centre beach in Wimereux
Just opposite, a superb seawall-promenade reserved for pedestrians runs along the beach when it is not engulfed by the sea. A kilometre and a half upon which you can "do the seawall", grab some fresh air or get moving on two, three or four wheels, on stormy days you can also admire the waves breaking in a gigantic spray of foam.
Below, at low tide, Le Centre beach offers timeless pleasures. You can chase a kite, play ball, eat a sugar waffle, or build a sand castle that will not survive the next high tide.…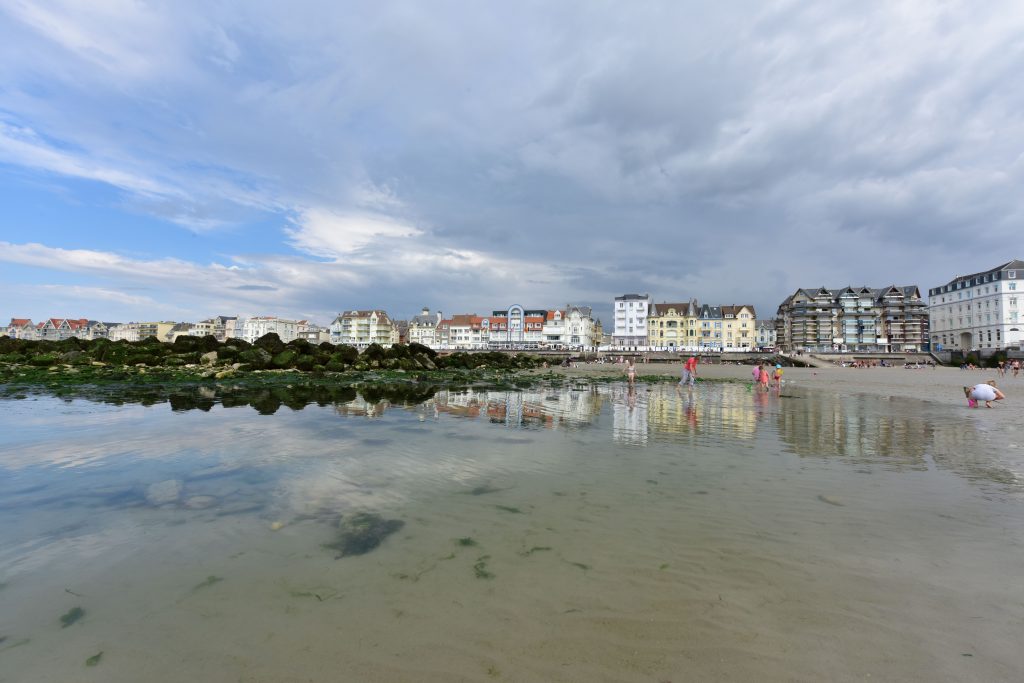 Wimereux, family-friendly and vibrant
Charming and authentic, Wimereux is above all a family resort, which unites all generations.
It is also vibrant and lively, with a number of food shops, restaurants, home décor boutiques, clothes boutiques and art galleries.
Sporty Wimereux
But Wimereux also knows how to be sporty. You can go sand yachting, kitesurfing, sailing, play tennis or go horse-riding. You can go for a walk on the many footpaths or just in the gardens of the Baie Saint-Jean, built at the former Napoleonic port.
But the highlight is still hitting that little white ball on an eighteen-hole course, in the well-preserved natural environment of the Grand Site de France Les Deux-Caps.
In Wimereux, golf has been played since 1901, cultivating the resort's chic side.…