1,500 km of cycling discovery route
Fresh sea air, lighthouses, beaches, cliffs … When you cycle along La Vélomaritime®, the promise of a maritime experience is kept. But there's more to it! The 1,500 km of cycle route also allows you to discover the riches of a diverse territory stretching from Roscoff, in Brittany, to Dunkirk and the Belgian border.
The French part of EuroVelo 4, La Vélomaritime, promises moments of wonder at the foot of the lighthouses, in front of the landscapes, of cultural and heritage discoveries convivialtimes around the local gastronomy.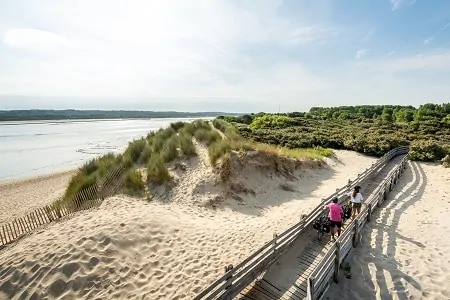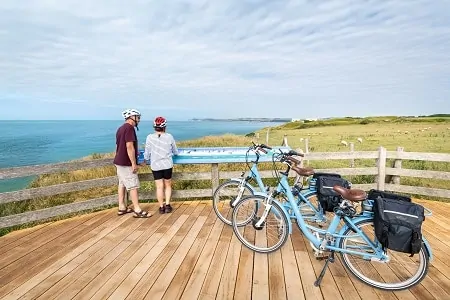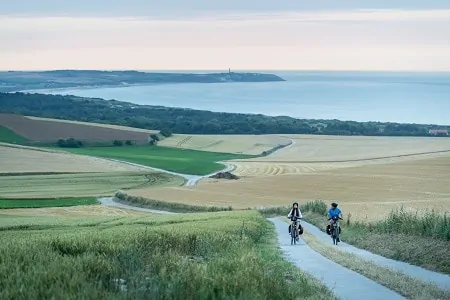 The route includes 3 sites listed as World Heritage by Unesco, 5 sites awarded or in the process of being awarded the Grand Site de France label, 4 national monuments and 2 Plus Beaux Villages de France. As its name suggests, the Vélomaritime® is France's most iodised cycle route, with exceptionnal coastal natural sites, but also historical and cultural heritage, a multitude of outdoor activities, a rich gastronomy, between land and sea, ports, seaside resorts, outdoor accommodation… Committed to a sustainable approach, the Vélomaritime® highlights the values ​​of conviviality, authenticity and sharing.
With a large proportion of small hilly roads, it is an ideal route for cyclists looking for a sporting challenge or on an electrically assisted bicycle (VAE).
More than 80% of the route is accessible in the Pas-de-Calais … In the meantime, alternate routes facilitate as much as possible cycling on the
With the Accueil Vélo label, you will be guaranteed quality reception and services along cycle routes (within 5 km from the routes) for travelling cyclists: accommodation, cycle hire companies, restaurants, cycle repairers, tourist offices and sites to visit.